Former carers: The Way Ahead
New booklet launched by Care Alliance Ireland
The Way Ahead, a new booklet aimed at former family carers, was launched this week by Care Alliance Ireland.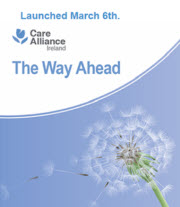 This resource aims to help people who are no longer providing care to a partner, family member or friend, usually because the person has died or is living in residential care. It discusses feelings that former carers often have when their caring role has ended and gives information on practical matters and support services that may be available. The booklet also features quotes from former carers and short videos.
To produce this booklet, Care Alliance has worked with a number of former family carers and not-for-profit organisations, including the Irish Hospice Foundation, Health Service Executive (HSE) Ireland, University College Cork (UCC) and West Cork Carers Support Group. Funding has been provided by the National Lottery and the Department of Rural and Community Development via Pobal.
This booklet is available in hard copy and online from Care Alliance Ireland