'Locked in' Boy Meets is Hero Writer
A remarkable 10-year-old boy from Wiltshire, who learnt to communicate despite being 'locked-in' due to severe cerebral palsy, has met his literary hero – children's author Michael Morpurgo – thanks to Make-A-Wish® UK.
Jonathan Bryan also has kidney failure, chronic lung disease and is oxygen dependent following a car accident when he was in the womb. He learnt to 'eye talk' using a spelling board when he was seven and has developed a reading and writing age beyond his years. Now, he too may become a published writer.
Jonathan's teacher suggested he contact Make-A-Wish, the charity that grants magical wishes to enrich the lives of children and young people fighting life-threatening conditions, because he dearly wanted to meet his favourite author and loved hearing his stories read aloud – especially the book 'Why the Whales Came'.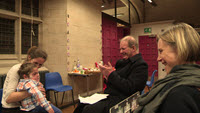 His wish became a magical reality when Make-A-Wish arranged for Jonathan, his mum, his carer and his two sisters Susannah and Jemima, to travel down to Exeter from their home near Chippenham. On arrival Jonathan and his family went for dinner together and then headed to Exeter Cathedral where Michael Morpurgo was waiting to meet them!
His mum Chantal said: "Michael was only meant to be with Jonathan for half an hour and had to be cajoled out after 50 minutes by his agent as he then had a concert to do.  We went over to the cathedral for the concert, and then met Michael briefly afterwards, when Jonathan told him: "I loved it. You are compelling."
Afterwards Jonathan said: "It was wonderful to meet my literary hero. The best moments during the wish were hearing Michael Morpurgo read my story aloud, being able to ask him my questions and Mr Morpurgo agreeing to write a foreword for my little book. The wish has given me lots of good memories and the impetus to put a book together. Thinking back on the wish makes me feel happy and excited.  Thank you for making my wish come true. I am meeting the head of an agency in London about possibilities for my book."
Jonathan has since written to thank Michael, saying: "Hearing you read my tale was like sitting at the feet of my storytelling master; immersed in the richness of your narration we travelled the landscape of my silence together."
Chantal added: "Meeting Michael Morpurgo was a dream come true for Jonathan, and it was a really special meeting of two writers.  The girls enjoyed meeting Michael too and it was lovely that they could also be included. Susannah, who's seven, gave him a poem, and Jemima, four, did a drawing for him."
Chantal began teaching Jonathan to select whole words with his eyes on the advice of a speech and language therapist who told her about the 'eye talk' method of communicating with alphabet boards.
After 18 months of sheer persistence and determination, he had a "breakthrough" and began spelling out words by laboriously selecting individual letters, numbers and punctuation marks.
The wish was filmed by production company Sugar Films for a documentary to be broadcast on CBBC in 2018 and Jonathan wrote about the experience on his blog here: https://eyecantalk.net/2016/12/07/magical-meeting/
More children than ever are turning to Make-A-Wish so every donation really makes a difference.  To make a donation, choose a challenge to take part in or find out more about our work, please visit our website here: www.make-a-wish.org.uk or telephone 01276 40 50 70