Elderly Care – 'Double Blow' of Service Cuts
Emily Dugan writing in The Independent – Older people have been hit with a "double whammy" of cuts  to social care and a huge drop in the number of community nurses to help them at home.
Spending on services for older people dropped by a third over the last decade, according to new figures from the charity Age UK. Meanwhile, the number of community nurses – essential for delivering care to older people – dropped by 27 per cent between 2009 and 2014.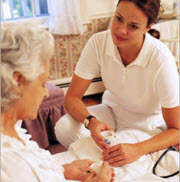 Nurse consultants in the community and community matrons are also down, their numbers falling by 17 per cent and 40 per cent respectively over five years.



Spending on social care services for older people has plummeted from £8.1bn in 2005-6 to £5.4bn in 2014-15. Community care services have been the most affected, according to Age UK, with a "huge drop" of 24.9 per cent – more than £500m – in the last four years alone.
Caroline Abrahams the Charity Director at Age UK, said: "Older people are being hit by a 'double whammy' of cuts to community health and social care services many depend on to retain their independence. Far to often frail older people are without the help they need to stay well at home and end up having to go to A&E instead. Others find themselves stranded in hospital because there aren't enough social care and community health services to allow them to be safely discharged.
"The solution is more investment in primary and community healthcare, and in social care, and we call on the Chancellor to commit to this in his budget.