Taxi passengers with dementia rank sensitivity to their needs as top demand
Taxi and minicab firms would deliver a better service if they showed more sensitivity to the needs of passengers who live with dementia, participants say in a new report by research charity Rica.
The research participants, four members of the Camden Minds Dementia Engagement and Empowerment Project (DEEP) group, all have Alzheimer's disease or another type of mild to moderate dementia. All of them travel by taxi or minicab at least once a month.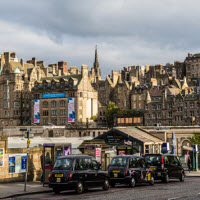 The DEEP group teamed up with Innovations in Dementia (iD) and Rica to investigate the experience of people with dementia when using taxis and minicabs, as well as how taxi services (both booking a cab and the journey itself) could be improved.
The research was in two parts: participants booking and taking a taxi journey to a chosen workshop venue, followed by one-to-one and group discussions about their experiences of that journey and of previous ones. The Camden Minds members had varying past experiences of using taxis. However they agreed on a number of recommendations which could help taxi and minicab firms to improve both the booking process and the journey itself for passengers with dementia. These fell into three areas:
Identification: Booking staff should inform the passenger about the driver and vehicle and give full and accurate details of the booking to the driver. Drivers should identify themselves to the passenger and confirm the journey details.
Assistance: Booking staff should ask if a passenger needs assistance and pass this on to the driver, who should also check whether the passenger needs help.
Awareness: Booking staff should be aware that some passengers like having the same driver, when possible. Drivers need to consider the passenger's mood and the driving conditions before talking during a journey. In addition, people with dementia don't always want to explain this to booking staff or drivers.
None of the participants had smartphones and so weren't aware of new technologies available for booking and using a taxi or minicab.
The mystery shopping project was carried out by Rica, the experts in age and ability research, in partnership with iD and local groups developed through DEEP. Rica has been funded by the John Ellerman Foundation in a new initiative to develop and carry out consumer research with people with dementia. This is the fourth project Rica has carried out with iD.
A full copy of the report is available at: http://bit.ly/Ricadementiaresearch