The NHS needs to be more productive – or is it more efficient?
David Maguire writing at the King's Fund – Stop reading this and get back to work – you need to be more productive. Or is it more efficient?




In the long-term plan, NHS England sets out a goal of achieving at least 1.1 per cent increases in productivity over each of the next five years. But there's often confusion about the term 'productivity' and what it really means, with efficiency and productivity often used interchangeably despite meaning very different things. In the simplest terms, an increase in productivity is when a business makes more of a product (in the case of the NHS, it would be more "care"- doing more operations, for example) using the resources they have available. Efficiency, however, relates to the quality of the work being done – so producing the same, but at a lower cost to the NHS or with less waste.
NHS England and NHS Improvement have spent the past few years focusing on pushing the NHS to the limits of what can be efficiently achieved with the resources available. And it'll use some of the additional £20.5bn in the funding settlement to get more of the same with the resources available, improving efficiencies in staffing, estates, equipment etc. But there's a limit to what you can do with those resources, and that's where productivity should come in.
If you look at the Office for National Statistics' recent trend in public service healthcare productivity in England, 1.1 per cent per year doesn't seem like an unrealistic target on the surface. Keep in mind this is productivity, and does not include the cost saving targets of around 4 per cent given to providers of hospital and other frontline services in recent years. The chart below shows that productivity increased by 2.1 per cent per year on average between 2010/11 and 2016/17. In fact, there was only one year of negative growth between 2002/03 and 2016/17.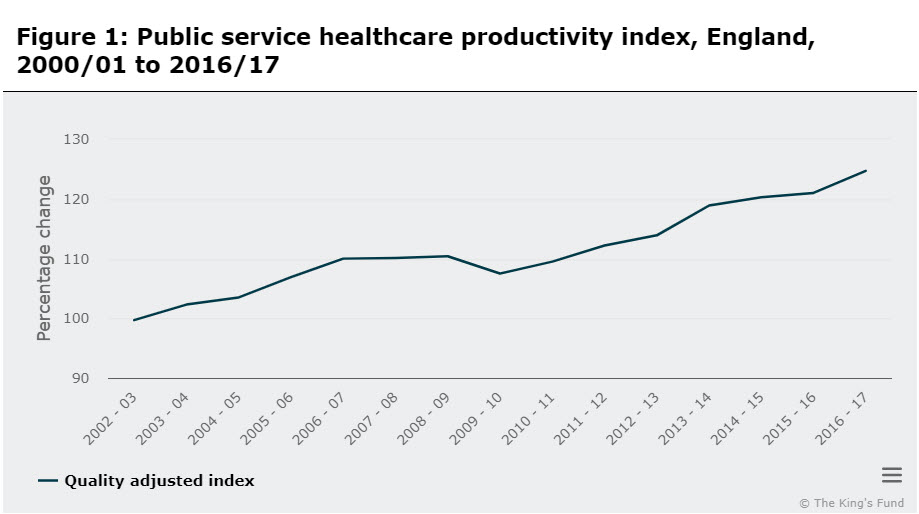 Source: Office for National Statistics
The most significant gains since 2010/11 came from the extent of wage restraint in the NHS keeping input costs down. By keeping wage growth much lower than the increase in the number of people being cared for, the NHS was able to see big increases in the amount of care provided relative to the cost of each staff member or piece of equipment. With wage restraint ending and a big recruitment drive outlined in the long-term plan, how is this trend going to be maintained? If you look at the post-Francis Report period in Figure 1 (2012/13), you can see that the last significant NHS recruitment drive slowed productivity growth as labour costs rose at a faster rate.
For the next 2 years, the long-term plan outlines 10 priority areas for productivity growth. Most of these have already been enacted or announced – such as capping spending on agency staff, improving procurement, networking pathology and diagnostic services, improving value for money in prescription spending and reducing the number of clinically ineffective treatments. Future plans to increase productivity include a greater emphasis on using digital technology in community health services, a drive to reduce administrative costs and the publication of a 10-year national strategy to reduce patient harm.
The agency staff cap has provided significant savings to the NHS, with trusts spending more on bank than agency shifts, at least in nursing. In the future though we can expect to see the percentage of this saving fall as that form of staffing becomes less common. At the same time, absence due to stress and mental health issues has increased to record levels in recent years among nursing staff. How can we expect staff to work even harder in their time on shift?
The NHS has been working to reduce prescription costs and has produced huge savings over time through better use of generic drugs (though drug costs have been increasing in recent years, thanks to big increases in the cost of certain generic drugs). Similarly, waste in procurement and variation in prices paid for supplies could also open up significant savings, following on from NHS Improvement's Model Hospital programme.
Less clear is the impact that technology will have on the productivity of the NHS. There are plans to digitise some services in the community across mental and physical health as well as primary care, but the evidence on the likely return on this investment is mixed. Individual schemes have shown cost-effectiveness, but the success of many digital technology schemes depends on a range of cultural factors, including the clinical model at work and engaging clinicians and other staff.
The thing is, of all the activities I've listed, in practice it's likely only the digital technology schemes that would potentially increase productivity as opposed to efficiency. Despite referring to these changes as improvements for productivity and efficiency, most of the schemes outlined in the long-term plan focus on improving how the NHS provides more of the same care with the same workforce, rather than transforming the possibilities of what staff can do.
If the NHS continues to focus on the same schemes and improving efficiency it'll see smaller and smaller returns until there's little left to gain. As we and others have said, the funding settlement is only enough to maintain existing services at their current level, not provide enough additional funding to help transform how care is provided.
Productivity may have to wait, efficiency calls.