Big Button Phones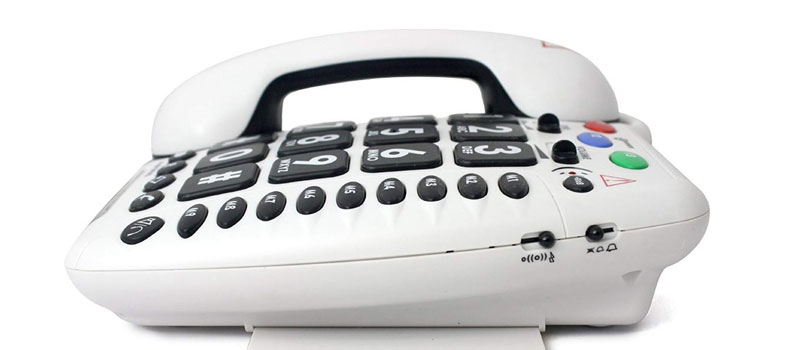 We are often asked to suggest products that disabled and elderly people have found useful for everyday living tasks. One of them is a big button phone.
Using the telephone to communicate with family and friends is of great importance, especially if you live alone and are housebound. If you find it difficult to use an ordinary phone because of vision, hearing, memory or dexterity impairments there may be a big button phone to help you.
There are big button phones with safety features such as panic and emergency alarms.
Some phones have picture buttons for memory and cognitive impairments.
For people with severe hearing difficulties there are phones with a strobe light alert and pillow shaker to indicate an incoming call.
Although the specification given of the phone below makes it quite expensive, there are variously priced models with features giving assistance.  See more big button phone examples
---
Our Featured Big Button Phone
The Geemarc Amplipower 40 is an easy to use big button telephone and is fully hearing aid compatible for interference free hearing for hearing aid users.
The Amplipower 40 has a receiving volume of up to 40dB, ideal for those with mild to severe hearing loss, making it easy to hear. Adjustable tone control means you can adjust the pitch to customise the sound to your hearing loss.
Features also include: extra loud hands free speakerphone, visual ringer indicator, so you can see clearly that your phone is ringing, 9 direct memories, 3 emergency buttons and it is wall mountable. The Amplipower40 require mains power to enable you to take advantage of its great features. Main adaptor included.
---
Consider a big button phone if you are partially sighted or blind, disabled, elderly or have a friend or family member who is.