Disabilities are diverse. Accessibility requirements vary, and will also depend on what type of event you're putting on. You might come across the following accessibility measures while you're researching:
Wheelchair access
Door and hallways need to accommodate the width of a standard wheelchair (70cm). If you need to go up or down stairs, there should be a lift available.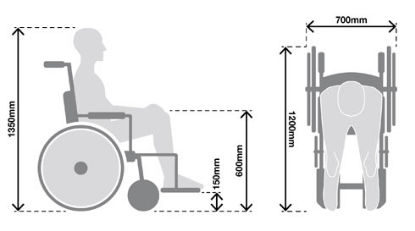 Accessible toilets
Wheelchair-accessible toilets need to have room for turning space, so there can't be unnecessary clutter. There needs to be grab rails and a lowered sink too.
Hearing / induction loop
Used by people who have hearing impairments, this sound system can produce an electromagnetic signal received directly by hearing aids.
Captioning
Usually presented as subtitles on a screen, it's important to have text to represent anything spoken.
Audio description
For blind and visually impaired attendees, you can have a narrator to talk through a performance, tour, workshop or demonstration. This is often pre-recorded so it can be played through headphones in real time.
Signed performance
For some events, it might be necessary to hire a trained British Sign Language (BSL) interpreter is present the language used at the same time. They usually stand to one side of the stage.
Relaxed performance
During relaxed performances, lights might be dimmed or loud noises eliminated. It's an adaptation designed to welcome people with additional needs, such as autistic spectrum conditions and learning disabilities.