A buying guide for people who use a walking stick or those considering using one because of mobility problems and walking difficulties
You should find the cost of a walking stick within your budget as being mass produced they are quite cheap to buy. The advice of a physiotherapist is helpful when choosing a walking aid for mobility problems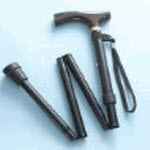 Buy Walking Sticks and Stick Seats at Focus on Disability
To enable you to get around and enjoy your everyday activities it's important to make sure your walking stick has been adjusted to fit your body and is the right type to meet your needs.
Walking Stick Height
To measure the correct height for your stick stand up straight with your hands relaxed at your sides. The top of your walking stick should come up to your wrist. Your elbow should be slightly bent when holding the walking stick.
Which hand should I use my walking stick with?
If you use a walking stick because of an injury to your leg or a joint on one side, you should hold your walking stick in the hand that is opposite to the one that needs support.
If you use a walking stick for balance you can use it in either hand, whatever feels most comfortable for you.
Walking Stick Types
Non-adjustable
A non-adjustable walking stick has a permanent height. They are usually made of wood. The height can be cut to suit you but if cut to short It cannot be changed back.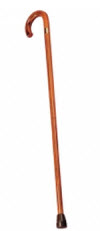 ---
Adjustable
Adjustable walking sticks can be adjusted to different heights. Typically made in aluminium they generally have multiple settings.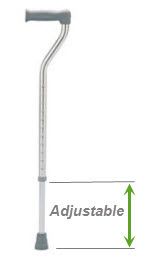 ---
Tripod and Tetrapod
Tripod – 3 legs
Tetrapod/Quad – 4 legs
These walkings aids are designed to allow more weight to be put on them and offer more security than other types of walking sticks. They should not be used on stairs.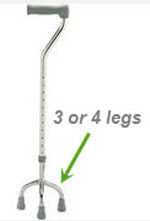 ---
Folding
A folding walking stick is made up of sections and can be broken down into parts. It can be folded up and put in a bag. When folded these walking sticks are usually less than 30cm long. A drawback of these designs is that the folding mechanism makes them suseptible to flexing when used by the heavier individual and therefor less secure. Height adjustment is limited as it's usually incorporated in one section. Folding walking sticks are most useful if you do not use your walking stick all the time but like to have it available in case you need it.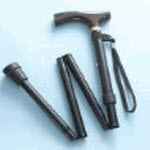 Walking Stick Handles
Crook or Curved
A crook or curved handle is very common on non-adjustable walking sticks. The curved handle can be slung on a raised arm or table if not being used. It needs a firm grip as it's not ergonomically designed for people with weak or arthritic hands.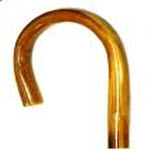 ---
Derby
The Derby handle is shaped like a flat handle but with a slight curve. The curve means it can be slung on your arm (or table) when not being used like a crook handle but the shape provides an easier grip than the crook handle.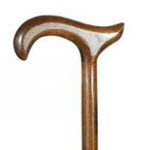 ---
Ergonomic – Contoured
An ergonomic handle spreads the weight of your body across your hand instead of in just one single area. It will suit people who have arthritis in their hands or put a lot of weight on the walking stick and use it a lot. Because an ergonomic handle is shaped for your palm you need to select either a left handed or a right handed handle depending on the hand you use for your walking stick.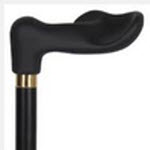 ---
T Handle
This is the standard handle used on many walking sticks and the shape allows your thumb to comfortably wrap around the front of the stick whilst the back of the handle is easy to grip. It's a trusted design that suits many users.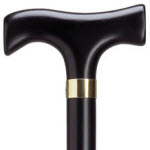 ---
Swan
The curved shaft of a swan walking stick spreads your weight over the stick and gives you more control and stability.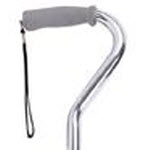 ---
Escort
Walking sticks with Escort handles are very popular as the curved and tapering design enables a good grip and aesthetically pleasing looks.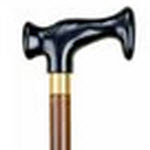 Materials and Manufacture
Wood
Walking sticks manufactured with shafts made of chestnut, ash, cherry, hazel, oak or rosewood are as popular today as they have been for many years. There are designs that incorporate most handle types. They have solid shafts and if cut to short they cannot be repaired.
Aluminium
Walking sticks in lightweight aluminium give more security for the heavier individual than wooden or folding walking sticks. Adjustable aluminium walking sticks – meaning they can be adjusted over a large range by the simple use of a spring loaded catch – are very popular. Tripod and tetrapod/quad walking aids are usually manufactured in aluminium.
Folding
Walking sticks that fold are usually made from aluminium or composite materials. They comprise several sections that slot together and are held in place by a central elasticated cord that is under slight tension. Being easily carried around they offer the flexibility of being available when needed. The downside to these sticks is that they flex more easily under load and some users may not trust them.
Walking Stick Ferrules
See also: Walking Stick Ferrules and Crutch Ferrules
Rubber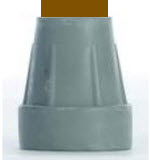 Besides protecting the bottom tip of a walking stick, rubber ferrules enhance grip on the walking surface and absorb the shock of placing the stick on the ground.
Metal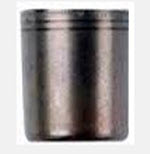 Ferrules in brass, steel, silver and gold plate are manufactured. They protect the walking stick but don't offer the gripping and shock absorbing benefits of rubber ferrules.
Rubber and metal ferrules should always be a tight and secure fit on the walking stick. They shoud also be replaced when worn.
As well as walking sticks, ferrules are used on the feet of many mobility aids including Walking Frames, Toilet Frames and Shower Chairs, Shower Stools.