A buying guide for people who use a Zimmer frame or walking frame and for those with mobility problems who may find one helpful
A Zimmer frame is the most freqently used term for a walking frame and named after Zimmer Holdings, a manufacturer of walking frames and orthopaedic products for many years. Wheeled walkers are walking frames with wheels on the front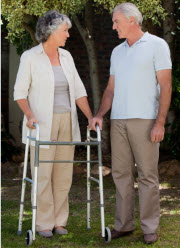 Overview
Types of Walking Frames
Accessories
Walking Frame Ferrules
See also: Walking Frames and Accessories and
Rollators
These mobility aids provide support for people who are slightly unstable on their feet or recovering from certain operations.
They give the user the ability to move around independently without assistance in there home. whilst a resident in a care home or patient in hospital.
This guide shows the types of walking frame available and whether this type of mobility aid is right for you and which type to choose.
Overview
General Design Features
The majority of Zimmer/walking frames are constructed in lightweight aluminium. Most designs have four feet with solid rubber tips called ferrules. Ferrules protect the aluminium feet from wear, enhance grip on the floor and give shock absorption properties that benefit the user. Many designs also have small wheels on the front two feet which allows the user to move with the frame without having to lift it completely from the floor
Most walking frames are height adjustable which enables them to be set to accommodate different users.
Main Considerations
Your build (weight and height)
Your actual physical size (weight and height) should be considered in relation to the frame's dimensions. If you're tall or heavy a wider frame may be more suitable as they offer greater stability .
Sturdier beriatric (heavy duty) walking frames are available for the heavier individual.
Height
This is the most important consideration when choosing a walking frame.The majority of walking frames adjust in height via either a spring loaded ball catch or 'E' type clip on each of the legs. Height adjustments usually have 4 or 5 different settings one inch apart.
If the walking frame is too low the user will stoop when they walk , causing back strain. If it's too high the user will put strain on their arms and their body weight will not be transmitted effectively through to the frame itself.
Walking frames are usually sold with heights ranging from 26″ (67cm) up to 37 (94cm).
Measure someone for a walking frame
Measure from the floor to the user's wrist when the user is standing up straight with their everyday footwear on and with their arms at their side with the elbows slightly bent. Physiotherapists refer to this method which is also used to determine the height of a walking sticksqaas.
Width
One of the major considerations is the actual width of the frame. Standard walking frames used in hospitals are around 25 inches (64 cm) wide. This allows the frames to be used by people of all shapes and sizes and the frames can easily fit through the wider doors which tend to feature in most hospitals.
However a frame this wide at home is often impractical, particularly when trying to manoeuvre around furniture and through standard doorways. There's a full range of narrow frames which enable them to be easily used at home, these tend to be around 22 inches (53cm) wide. There are a few narrow still at around 20 inches (49cm) in width. The majority of frames taper towards the front of the frame by around 2 inches on each side.
Types Walking Frame
Standard
These walking frames have four legs and typically have height adjustment. Some people may find them unsuitable as they have be picked up and moved forward with each step taken.
Fitting glide skis to the rear or front two feet (whichever suits the user best) enables smoother movement over carpeted or uneven floors. They also help to prevent wear and tear on carpets and floors.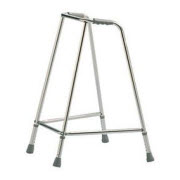 ---
Wheeled Walkers
Walking frames and Zimmer frames with wheels on the front are called wheeled walkers. The user only has to lift the back of the frame slighty while pushing to move forward. Although requiring less physical effort to move in a straight line, the frame still needs to be lifted to change direction.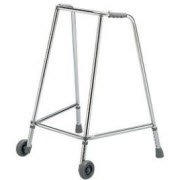 ---
Folding Walking Frames or Zimmer Frames
Non-folding walking frames are bulky, awkward items to store and transport. Folding designs can be carried in the boot of a car and other transport for users needing them at different destinations.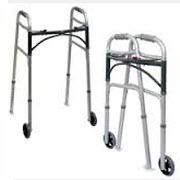 ---
Forearm Trough
These walking frames have troughs with integral handgrips to support the users forearms. They are helpful for users who have limited strength in their arms and users with poor grip or painful hands through injury, arthritis or impairment.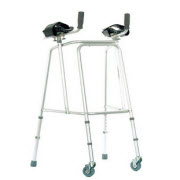 ---
Reciprocal Walking Frames
A reciprocal walking frame is one that works with each side pivoting independently of the other – this allows the user to lift up and move one side of the frame at a time, rather than all at once. The frame almost takes steps with you, and helps users to walk with a more natural rhythm as the frame itself mimics a more natural walking pattern.
Walking Frame Accessories

Baskets and Bags
These accessories give the user the convenience of having their everyday items with them as they move around.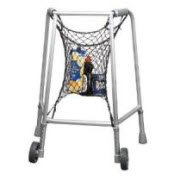 ---
Walking Stick Holder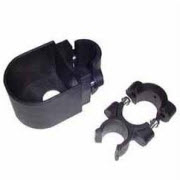 Attached to a walking frame to carry a walking stick for users who use both.    
Walking Frame Ferrules
See also: Walking Stick Ferrules and Crutch Ferrules

Walking frames are usually fitted with rubber ferrules. They protect the feet of walking frames and the floor from wear and more importantly enhance grip on the walking surface and absorb the shock of placing the frame on the floor.